opening Saturday, September 23, 4-7pm until November 4, 2023 Maruša Sagadin: Fissures, Others' Houses
in the main gallery, curated by Vít Havránek
hunt kastner is very pleased to start our2023 autumn exhibition season off with a presentation of work by Vienna-based artist, Maruša Sagadin. This will be the first solo exhibition of the artist in the Czech Republic, whose practice is distinguished by her unique engagement of sculpture, architecture, urban space, gender, and language.
Maruša Sagadin's sculptures touch on playfulness, imagination, and the pop-cultural accessibility of postmodern art while working with the motif of the body, its form, its needs, and the care it requires – both the body of the particular viewer they are concerned about (and whom they provide with seating) and the human body as the universal measure of all sculpture. The nature of Maruša Sagadin's work is neither typical nor unusual for feminist aesthetics – it is one of its many forms. (Vit Havránek)
Maruša Sagadin (*1978, Ljubljana) studied architecture in Graz before transitioning to performative arts and sculpture at the Academy of Fine Arts Vienna. In 2015/2016, she participated in the ISCP Grant in New York, and in 2010 she was awarded the Schindler Grant at the MAK – Center for Art and Architecture in Los Angeles. From 2011 – 2017 she was Assistant Professor at the Academy of Fine Arts Vienna, in the Department for Performative Arts and Sculpture. From October 2023 Maruša Sagadin will be the visiting guest professor in the sculpture studio at the Academy of Fine Arts in Prague.
&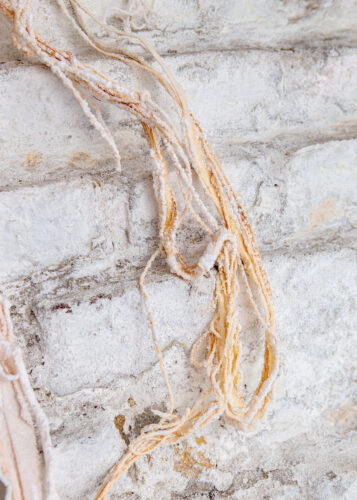 Jindřiška Jabůrková: Endless Flow
in the projekt_room, curated by Anežka Chalupová & Vít Novák
The idea of the constant cycle, transformation and fluidity of matter, whether it is organic, inorganic or dark matter in the universe. Matter taking on different forms, and reshaping its states, retaining memory in layers, degrading and re-forming, shifting and settling.
Jindřiška Jabůrková (*1995) is a graduate of the Academy of Fine Arts in Prague, studios of sculpture and painting. She works in various media, focusing on the contextual meanings of materials, the motif of post-apocalyptic vision of objects in the world and the transformative processes of matter, whether of human or natural origin.